Art leads to competitive situations that acquire the artist to gain a competitive edge. This can force the artist to move out of the local, whether that be traveling, leaving their place of practice, or crossing disciplines to bring new information into their work, and therefore making them more competitive in the local scene because local styles develop in the appropriation of broader contexts. Trust us on this one. :ic:

Send letters to the editor to feedback@instantcoffee.org

TOP
Saturday Edition Feature
1. Path Ramblings | Jon Sasaki
Exploring the PATH
Earlier this winter I said to myself: "Jon, it's high time you figured out Toronto's underground PATH system so you don't keep getting lost every time you go down there." So I downloaded a .pdf map and went off to explore those ten kilometres of subterranean corridor that connect most of the office buildings in the city's central business district. Let me share a few observations.
At first I thought the PATH radiated a really unnatural, unhealthy vibe, but my opinion changed when I began to notice a disproportionately high number of health food stores, shiatsu therapists and nutrition supplement centres. The PATH actually turns out to be one of the most healthy and spiritual places in the city. Even the name "PATH" has zen-like connotations for me. My favorite spot to sit is by the edge of the fountain in First Canadian Place. I'm really not kidding about this, either.
Everyone walks through the tunnels really fast. There is an incessant, even flow, akin to a toilet that needs its handle jiggled, and everybody seems to know exactly where they're going. So do I, thanks to my .pdf map.
So many doors to pass through! The well-seasoned PATHers smack those buttons on the wall as they approach a door to trigger the automatic opener. That trick makes them look like they're on the USS Enterprise or something, especially when they're talking into flip-phones. "report to the holodeck!"
There is a cinema in the basement of the Sheraton hotel. I recall going to see "The Jungle Book" when I was a kid, but I believe it has been closed for years. Recently, for whatever reason, the ENDS discount clothing chain thought it would be a good place to sell value-priced outerwear. Racks of Misty Mountain apparel have been wedged into the theatre aisles, boxes of scarves and hats clutter the lobby. Brilliant merchandising. I've never seen polar fleece look so...theatrical.
There's no official dress code in the tunnels, so people are free to sartorially express themselves any way they choose. I saw a lot of people sporting neckties, likely in a gesture of punk solidarity with Canada's first lady of kick-ass, Avril Lavigne. This place rocks. Download your own map at http://www.city.toronto.on.ca/path and get exploring.

If you want more on the PATH watch out for Janis Demkiw and Judy Cheung's, (two Toronto-based artists) upcoming collaborative project. -IC

2. An Open Letter to Artists | Liz Wylie
An Open Letter to Artists: Confessions from a Recovering "Critic-on-Call"
By Liz Wylie, University of Toronto Art Curator
Congratulations! After years of work in your studio, hours spent promoting your work, and participation in countless group shows, you have a solo exhibition coming up. It may be at an artist-run centre, or in a rented exhibition space, or even with a dealer ­ though this has become rare. Whatever your venue, you have lots to do to get ready, and chances are somewhere on your "to do" list you have jotted down to try to have your show reviewed. A great idea! Now, you may wonder, how am I going to arrange this coverage? ­ for without a published review, won't your show feel like that Zen tree soundlessly falling in the forest? This is usually the point at which someone like me, a freelance writer on art, enters your career, appears on your screen, is scribbled into your address book, is suddenly necessary ­ even vital. OK, so, the exhibition is opening in a couple of weeks! Quick, grab the yellow pages, and sure enough, under critics, art, you see a way-cool-looking display ad with a 1-900 listing for "Critic-on-Call." You quickly dial the number:
Telephone rings. Message begins: Hi there, and thank you for calling Critic-on-Call. I am here to serve you and to make sure you get that all important exhibition review in one of Canada's leading art magazines. Just leave the date, place and time of your show opening and Iąll be there, dressed in black with my notebook in hand. All charges will be billed to your credit card, but please note that textual references to Baudrillard will be billed as extra.
Hey, that was easy. Hold on, hold on! You say you don't see a Ocritics' listing in your yellow pages ­ now what? Quick ­ better phone around and find out who the local art writers are. What follows is an invented amalgam of phone calls I have had over the years from various artists:
Telephone rings:
Me: Hello, Liz Wylie speaking.
Artist: Hello, my name is Joe/Jane artist. I was given your name by Fred/Helen Artist / Dealer / Magazine Editor / my Aunt Betty. I have a show opening at the Grime Gallery next Saturday and I was wondering if you could write a review of it?
I am lost in reverie. Shall I be gentle and polite, or should I scream my reply in the frantic vein of Quentin Tarantino in Pulp Fiction, demanding to know whether a sign on my door says "Critic-on-Call"? I can't help wondering if this artist has ever read anything I have written? That is, is it really me they want to review their show (we havenąt even considered for which publication this might be) or does he/she just so desperately want product that they don't care? Now what?
Unfortunately, like the advice given to golfers who have taken up the game as adults (only to face the frustration of a sport that is apparently not really a sport but a kind of all-encompassing torture of the being when it is going poorly), the solution is to go back and start learning golf several years earlier in your life. Because getting in touch with critics two weeks before your solo show opens is to have left things too late. You must go back several years and begin earlier! Before itąs even later, consider the following:
1. While you are still an art student, get to know all the various publications on art, and general publications that cover art. This is your chance while you can still read them free in your campus library. Read until you find writers you like and writers you think would be sympathetic to the direction of your work.
2. Then contact these writers by mail or email (care of the magazines' addresses) and let them know about your studio practice. A brief note, along with an image or two would be fine. Tell them you admire/enjoy their approach and would like to stay in touch. When you have a new body of work, invite them to your studio or to meet you for a quick coffee to see slides. In this way, over the years, when you finally have your solo show lined up, you may have a handful of interested writers who will be happy to come to your exhibition and perhaps review your show, or discuss your work in a feature article. Sounds simple doesnąt it? And itąs never too late, even if you are already an established artist.
3. Keep this up over the years; younger critics are also interested in the careers of older artists, not just the work of their own generation.
Just to glimpse the difference this research and outreach on your part could make, imagine another possible telephone scenario:
Telephone rings:
Me: Hello, Liz Wylie speaking.
Artist: Hi Liz, this is Joel/Janet Artist. You remember in my recent note I mentioned how much I liked your last article on Fin-de-Sičcle Angst in Post-Queen Street Post-Industrial Graffiti Slime Art in WOW magazine? Well, I am having a show of my recent stuff along those same lines at Venue Gallery in six months. I know you are busy, but Iąd love to have your feedback if you could make it.
Note the differences here:

critic has lead-time to contact magazines and organize his/her own life.
artist has not asked for a review, but has expressed esteem for critic's opinions and judgments and would like his/her ideas about the work.
artist has left the decision to write or not up to the critic.

We writers on art are not so different from artists. Like artists, we have often spent years learning our craft and developing our practice. Like artists, we are dedicated professionals, often crazy about the visual arts, and have had to work at all kinds of day jobs in order to support our habit. We love to look at art and to write about the art that excites us. But, we need to see and consider an artistąs work before we know if we want to write on it at all. A piece of critical writing is not a personal favour, neither should one be viewed as promotion. The writing may end actually up being negative, of course, so be braced for this possibility no matter what your relationship with the critic.

Why not start now. Get to know the work of art writers and decide who you like the most. Stay in contact them before you have a show you want reviewed, and you wonąt be caught out, thumbing through the yellow pages looking for that critic-on-call.
TOP
International Coffees

Trip Update | Andrew Reilly & Kate Monro

Kate, Instant Coffee's resident net guru, has been travelling through South-East Asia with her husband Andrew since October and is schedulad to be back in Toronto in June. We received a trip update from Andrew a couple of weeks ago:

After Christmas, we left Saigon to travel the Mekong Delta and ended up on an island off the south end of Viet Nam called Phu Quoc. The island had several nice cheap resorts and beautiful beaches but isn't yet in the over developed state of some of the Thai islands.

We spent new years in Phu Quoc and had dinner with a few European travelers and a couple of Vietnamese that we meet on the six hour boat ride across to the island.

After a couple of days on the beach we headed back to Saigon for our flight to Cambodia. We landed in Phnom Penh on January fifth and spent a couple of days site seeing in the capital. We saw several monuments, markets, and Undoubtedly the most disturbing moment of the trip to date the Khmer Rouge S21 prison camp.

Cambodia seems to be recovering well, look to be as safe or safer than its neighbors. The lawless place of the late nineties has definitely passed, although you can still go to a shooting range and fire a rocket launcher if you have enough cash.

After Phnom Penh we headed south to the coast to Sihanoukville by bus to check out the beaches. This would have to rate as the nicest beach that we have seen yet. The sand was so clean it squeaked under your feet.

Then it was north to Phnom Penh again, and then a five hour boat ride north to Siem Riep where Angkor Wat/Angkor Tom are located. We got a three day pass to Angkor Wat, which set us back $40 USD each and hooked up with a great tuk-tuk driver called Mr. Bun Seav. (We have his contact info if anyone needs it!!!) Mr.'s Bun (pronounced Boon) was a pretty great guy and kept us informed of all the ways people were scamming us.

Angkor was fabulous. The sheer scope is difficult to communicate, but to give you an idea, the moat around Angkor Wat is as wide as two football fields. And that is just one temple! Angkor Tom, the city itself, dates from the 12th century and had a population of around 2 million people. We even managed to get up early enough to watch the sunset at Angkor Wat, which was incredible. We foolishly forgot to bring a flashlight, making it a little dangerous as well. Kate was sensible and stayed outside till it started getting light, but I wanted to check out the central spires. Try walking around a 12th century temple with forty drops in near pitch black light, with bats flapping and screeching past you. We spent the rest of the first day in and around the old city of Angkor Tom.

The next two days was spent talking with Mr. Bun, checking out various temples, and visiting the Western Baray. The Western Baray is one of the old, but still functioning reservoir that supplied Angkor Tom with water. It was quite an odd site: a vast lake 8 km long and almost 3 km wide but perfectly rectangular. Apparently the Khmers constructed the Baray by hand along with and another matching reservoir east of the city.

At the end of the three days Mr. Bun invited us to dinner at his house. We brought a small football for his four year old son, and a silk scarf for his wife. For dinner we vegetables and rice and two dishes: roast chicken and cow's stomach. The chicken was great and years of eating Scottish food had well prepared me for the cow, but I don't think Kate ate too much it. The dinner was nice and we had a great time, although it probably gave us the clearest picture of the poverty working families in South East Asia face.

After four days in Siem Riep we headed off at six in the morning via boat. The ride cut across the Tonle Sap Lake and then up river to Battambang. We arrived at about 12:30 PM and were a little let down. After checking out most of the guest houses we decided to push on. After a four and a half hour cab ride we made it to the Thai border as it was just closing. Unfortunately, we had forgot to get our exit visas on the Cambodian side and had to run back across no mans land "Quick, Quick!" as the Thais were shutting down for the evening.

After a quick tuk-tuk ride, and a four hour bus ride we were back in Bangkok.

On Monday we head north to Chang Mai, and Chang Rai by train and then head into Laos.

Oh, and we finally have a web site up where you can check out some pictures. Just click on the country, then the name of the picture:

cheers, Andrew & Kate.



TOP
Tasters Choice

This pie is made in three parts: the crust, the filling and the topping. The recipe can be doubled and frozen.

Ingredients: Crust
1/2 package pie crust mix
1 ounce (1 square) unsweetened chocolate
1/4 cup light brown sugar, firmly packed (strained if lumpy)
1 cup walnuts (must be chopped finely--you want small pieces)
1 teaspoon vanilla extract
1 Tablespoon water
Filling
1 ounce (1 square) unsweetened chocolate
1/2 cup butter
scant cup light brown sugar, firmly packed
2-1/2 teaspoons instant coffee
2 eggs
Topping--Coffee Whipped Cream
1 pint heavy cream
1 Tablespoon instant coffee ground to a powder
1/2 cup confectioners sugar


Place the pie crust in a large mixing bowl. The chocolate should be coarsely chopped and grounded in a blender or food processor. Stir it into the pie crust mix. Stir in the sugar and nuts. Mix the vanilla and water and gradually drizzle it over the mixture while stirring (do not pour it into one spot). The consistency should be lumpy and crumbly. Stir it briefly not to make it smooth. It will hold together when you press it into place.

Preheat oven to 375 degrees. Using a 9-inch pie plate, line the pie plate with aluminum foil and press the mixture into place (all around the sides and bottom of the pie plate). Bake the crust for 15 minutes.

Filling: Melt the chocolate and set aside to cool. In a small bowl with electric mixer cream the butter. Gradually add the sugar and beat at high speed for 2 to 3 minutes. Add the cooled melted chocolate and the instant coffee. Add the eggs individually with a rubber spatula.

Pour the filling into the cooled prepared crust. Place into the freezer. The pie should take a couple hours to freeze. Remove the foil and use a knife warmed in hot water (wipe off excess water each time you dip the knife in the water) to cut the pie in eight pieces.

Topping: Whip together in a chilled bowl.



TOP
Ten Ten
1. Yorkville, Toronto in ten mintues | Jenifer Papararo
I was about to walk across the street, but saw Richard Serra's name in Mira Godard's window. I had no idea that Serra made prints, thick black brush stroke lines that swirl across the page. Not my thing, but I understand that even those in the Canon have to make money. A couple of minutes later, I was in the basement of 33 Hazelton Ave. at Sable-Castelli. Some close up photographs of body parts lined the walls. I quickly walked by them to get to the back of the gallery, where a small collection of various works were hung. I lingered at a work by David Craven. A minute or so later I was upstairs at Artcore. Video landscapes and some light boxes. One of the pieces had two monitors that slowly moved towards each other across a conveyer like device. Two similar black and white videos of a panning shoreline played on each monitor. When the monitors bumped into each other, the image of the video and the monitors themselves changed direction. I watched them bump twice before walking into Edward Day. I barely looked at what was in the front gallery which was filled with dripping yet hard edged absract paintings. In the back gallery was a salon style show that kept my interest for a few minutes. I went back to look more closely at a painting by Michael Toke before leaving. For the first time, I walked into Drabensky gallery. More abstract paintings. After quickly, walking around the front room, I politely went downstairs, pretended to look and then headed for the door. I walked down to Revolver to see what was up, but the walls were bare.
Rating: 1.5/10
2. Caroline Mosby's Forwarded Jokes | Timothy Comeau
What is it about creativity that turns some of us into Shakespeare and others into designers of porno sites? I am really rather enthralled by the diversity of expression available to us both as creators and "consumers of creative products" to put it in a contemporary way. The old boring debate about low-brow and high-brow has a new dimension now that people are actually spending a considerable amount of time producing animated gifs and other photoshop kitsch.
Last fall I was added to the mailing list of Caroline Mosby, who would appear to be a node in the network of forwards and replies. Since September I have been occasionally receiving sexually suggestive animated gif's and jpegs, which I often don't find that har-har funny, since my sense-of-humour is more attuned to Kids in The Hall type absurdity and deadpan understatement. However, I still really like seeing what's out there, and some of them have been worth noting.
The highlights:
TOP
Sanka

1. Week in Review | Natalie de Vito

sunday
i went to a full-day board retreat. i got there first and had to wait outside. i should have taken the time to make coffee. i really wanted coffee, bad. so i helped the old manager and carried a tray of stacked coffee cups to shorten my waiting time. he offered me a job. i drank too much coffee.

after i had some pints and went to workplace to download some mp3s of pony da look and polmo polpo. it took two hours to download 30 seconds. i was visually over stimulated. there were three televisions going alongside a pink space-ship cd player that was playing uber music. i seat danced.

monday
i puttered. i went to the gym at 10am to meet my trainer. it was my first time back in two months. i love the exercise ball.

i returned "italian for beginners" late. the girl at the movie store didn't care that i apologized. i hate the way queen video reorganized their movies.

i've become obsessed with orchids. i brought a seedling flask back from thailand that had forty plants in it. they're supposed to be phals. i received a paph. for xmas, but the cold killed the bud. i bought a flourescent plant light. the guy at weiner's said that the paper inside the light socket is fire-resistant. i'm skeptical, but moronically bought the light anyway. i had visions that my whole apartment building was up in flames and my supers brenda and simon were leaving me messages.

i thought i'd try to get in touch with my half irish roots. i made beer beef stew. i made up the recipe:
1/2 lb beef or lamb, cubed
1 onion, chopped
3 garlic cloves, chopped
1 stalk lemon grass, chopped into 3 in sticks (secret ingredient)
1 tbsp oil
saute and sear meat


add 1 big sweet potato, chopped
1 sweet pepper (any colour), chopped
1 hot banana pepper, chopped
waxed beans, chopped
2 large tomatoes, chopped
beer to cover meat and vege, preferrably guinness or something dark

salt
pepper
rosemary
thyme
worchestershire sauce
balsamic vinegar


simmer for one hour (or longer)
thicken with 1 tbsp flour/water, mixed


tuesday
a girl on the bus who had just washed her hair got on. i have the nose of a hound, so i've been told. the shampoo smell was so strong it was nauseating, and i imagined suffocating from the overproduced smell of fake flowers that was burning my nose as i inhaled. she got off at the same stop and walked ahead of me down the street. i couldn't dodge her, i was trapped. i was afraid that the shampoo would smell my fear and attach itself to me.

i had two meetings on tuesday. i looked at my orchids.

wednesday
i went to g-diddy's for coffee before work. we chit-chatted and i secretly coveted the shiny opalescent white super speedy ibook. g-diddy brought rotis to work for everyone. i had another late meeting. i went back to g-diddy's for a late dinner. he almost poisoned me.

thursday
the money collector came to the gallery. we like it when she visits. i went to neon and bought silver jeans. they're a xmas present from my brother. i met ms e at pages. we sifted through magazines. then we went to see adaptation. i bought a blueberry/ginseng shake at the movies. apparently the ginseng was bad. the two shake-maker boys behind the counter knew it was bad, but saw no reason to leave it out. i returned the shake. they tried adding extra protein mix to make up for the bad ginseng. i declined repeatedly. i also bought a pretzel.

i liked adaptation. it was fucked up. i want to do a fact check.

friday
sadly, i missed artmet cocktails.

i went to my friend's surprise birthday/house warming party near coxwell station. none of the guests understood why i wore skull and cross-bones arm warmers/sleeve protectors from shanghai. i drank some wine and left for another double-whammy birthday bash: ms g and master t. everyone at this party understood my fashion decision.

i arrived around midnight for liveoke at the old york. by then most of the "rain or shine" song list had been sung. g-diddy sang "you are the sunshine of my life". i sang "there ain't no sunshine". the band was super. i wasn't as stellar. the two pints helped.

saturday
i was in thailand over the holidays, so i had xmas at my parent's house in the country north of kingston. my brother drove. there's a lot of snow. my dad wrote "welcome home" in the snow in red and green food colouring. we looked at holiday photos. we made scrappelles: fried dough sticks and ate a huge turkey dinner. my mom made four pies. there were only five of us. after xmas my parents stored this year's tree in the snow for a month and dug it out today to redecorate. we opened xmas presents.

i submitted my week in review late.

2. September 11th's Week in Review | Timothy Comeau


Last weekend hearing the words "September 11th" as part of a documentary made me realize how it has become an integral part of our vocabulary, used almost unconsciously. The following is an account of my hearing in conversation or radio, and seeing in print, the words "9/11" or "September 11th". I have tried to record the time and the context as accurately as and as agreeably as possible, without extraneous detail.

sun 26 jan


on Catholic.net, in an article headlined, "The Day they begged for priests"

12:29 AM | in a Trektoday.com BBS posting about two particular episodes of DS9


mon 27 jan


12.10am | heard on BBC radio report on the impending Hans Blix report

3pm | "stories from 911" as a subtitle to a book seen at Pages

5pm | completely unrelated paragraph in the book Citizens by Simon Schama, refering to September 11 1792

8.08pm | David Frum speaking in an interview on TVO

9.20pm | In an article by Christopher Hitchens on Slate.com


tues 28 jan


12.30pm | Walter Mead, writing in the Globe and Mail, includes "Sept 11." three times in his commentary article by Walter Mead in the Globe and Mail with the headline "How Bush grasps the world".

1.55pm | "9/11" seen in a graphic from a CNN screencapture of the memorial service in a Google.com image search for the Ground Zero architectural proposals (prompted by an article headline in artsjournal.com).

2.36pm | David Collenete, Minister of Transport, speaking during Question Period broadcast live on CPAC, said "September 11th 2001"

8.13-14 PM | "September 11th" was said three times in the space of two minutes during the Newshour special on the 108th Congress on PBS


wed 29 jan


1.14 am | "9/11" heard in an interview on the State of the Union address with Alexie Simingtiger (not sure if that's spelled right) broadcast on the BBC World Service.

1.44-46pm | Isabelle Devos, speaking about her "Insecurities Project" in a CBC Newsworld interview said, "September 11th" twice in two minutes.


thu 30 jan


3.14 am | "September 11th" was said in a voice over and in print on CBC News. The story involved the Privacy Commissioner's report on the Federal Government's proposed security legislation.

1.31pm | From Google.news: "September 11 relatives relive trauma > Expatica > 1 hour ago > 30 January 2003 HAMBURG > Five relatives of victims of the September 11 attacks offered tearful testimony at the al Qaeda terrorism trial in Germany"

1.34m | Headline on CBC.ca: "Witness > Tonight's documentary, "Security Threat" shows how far security demands have threatened our privacy and curtailed our civil liberties since Sept. 11th".

2.33pm | Headline on GlobeandMail.ca "Privacy under 'unprecedented assault' Radwanski accuses Ottawa of 'using' Sept. 11 to become Big Brother".

4.40pm | Google.news "Ridge Touts Border Security Plan > Washington Post - 2 hours ago > New homeland security chief Tom Ridge, telling America's enemies: "We are coming after you," set out his plans on Thursday for tightening security at US borders and preventing further Sept. 11-style attacks. "

4.46 | Headline on CNN.com " 9/11 families confront terror suspect in German court"

fri 31 jan


Rick Groen's review of the movie "The Recruit" in the Globe and Mail: "Certainly, there can be no doubt that the setting here is post-Sept 11".
4.12pm | George W. Bush, speaking at his press conference with Tony Blair, "After September 11th 2001 the world changed..." Tony Blair, speaking a minute after, said, "...his leadership since September 11th..."

sat 1 feb


This week's issue of the Economist, in an article envisioning the world in 2033 mentions "September 11th".

Shuttle Accident: CNN reporter in front of the White House mentions "September 11th"

I visited Sasha at Mercer Union and told her about Shuttle Disaster II. We went on the internet to watch videos on CBC.ca; Sasha and I began to talk about how it was like September 11th, the news coverage being on all channels. Notable comment by Sasha regarding our use of the net to follow the story, "...the internet wasn't very good during 9/11...".
Later I was browsing in Pages and my eye caught Noam Chomsky's "9/11" book.

3. Instant family rites for review | Jinhan Ko

This is a new section about life's rituals. Write about your own rites of passage and be featured in this section of instant coffee saturday edition.

To start things off i'll review one of my family rituals.

Last night (02.02.03) was the 24th anniversary of my grandmother's death. And on this day for the past 23 years my father has set out two bowls of white rice and two bowls of cold water, a few meat and vegetable dishes (there are colour and number combination, but he ignores these restrictions) and some apples and oranges on a lower table. A picture of the dead is supposed to be placed at the head the table, but my dad has lost the picture of his parents so he uses a note with their names. Then he waits for me. (I imagine he does this alone when we live in different cities.) On my arrival, after some awkward pleasantries, we begin the anniversary ritual by bowing before the ceremonial table. Even though this is the anniversary of my grandmother's death, my father prepares two settings for both my grandfather and grandmother. We take a bit of rice and dissolve it in the water next to the rice bowl and move around the metal chopstick to signify the dead are eating. We bow again. First, all the way to the ground and secondly, just halfway. We offer the dead a bit of Korean made sake. My father and I share some of the sake, ending the ceremony.

Traditionally, this would take a long time because everyone in the extended family would take turns bowing before the table, circulating the chopstick, and sharing the drink. But it takes me and father only a few minutes. Following the formal ceremony is the most important part, consuming the food. I guess this is meant to signify some sort of tie to our ancestors, and obviously not to waste food.

I was young when my grandmother passed away and I remember her very fondly but wonder how long this ceremony/tradition would last if my father didn't insist. I'm told Korean families perform these anniversary rites for three generations and it is my responsibility to carry it on.



TOP
Feedback

From: Ian
Date: Wed, 08 Jan 2003 07:52:39 -0500
To: Jin Ko
Subject: screensavers

good morning Jin,
thought to drop you a line after i have been d/l'n and evaluating
caffeine screens all night/morning/whatever after i awoke with a fever.
as you know, i never use screenssavers as they propagate the now-lesser
planned obsolescence of the crt monitor. I guess they're good for
businesses e.g. restaurants that still use 'squirrel'. Do screens
really get the burn-in effect anymore?
However, I have been re-conditioned, thanx to ic/
Now i will use screens saver despite the fact that they are misleading
and also hinder system performance for the 'power user' who likes to
edit video at home, on a PC.

I've decided not to sleep anymore as my roommate just brought coffee
home. He can't sleep either but its because of this new computer game.
Today i put chocolate soy in my coffee for the first time, so i am
skipping school. I'm going to make a screensaver after i finish
installing all the ones that i like.

Hope you have a great day,
see you Friday.\

From: "Robin Stanbridge"
Date: Sat, 11 Jan 2003 10:11:05 -0500
To: jin@instantcoffee.org

Hi Jin and Jen,

I just wanted to congratulate you on the show - which was perhaps the best, most refreshing thing I've seen in Toronto yet - and say that I was happy that I was a part of it, so thanks too.

I especially enjoyed the implications of the muddy slush on the floor (wonder how it looks now) as it reinforced the space as an extension of your ambitions and working environment by counterintuitively playing off the presence of the thing as a shrine to the arts networks in toronto and as a part of processes that takes place perhaps as your studio. Likewise, the reception seemed a necessarily strange intrusion into the installation... A smart one!

Hope you both had a great time last night and sorry we left kinda early; a bit exhausted these days... came home and went back to work... Let me know when the next IC Saturday Edition is going out as I might have something done soon to consider for inclusion.
Best,

Robin Stanbridge


From: "Jensen Richard"
To: saturday@instantcoffee.org
Sent: Wednesday 08 January 2003 9:36 AM
Subject: Coffee Soluble

Gents,

Can anyone help me please? I need to find an ISO Standard relevant to
content of Coffee Soluble.
I haven't come across your side prior to this day, but coffee has always
been my favourite drink, even before I was involved on Instant Coffee
production. Goes without saying that now that I have found your site, I will
home on to it on regular basis.

Best regards

Richard Jensen
Design and Assurance Manager
Infraco JNP Limited
30 The South Colonnade


From: "Richard Jensen"
To: saturday@instantcoffee.org
Subject: Coffee soluble
Date: Saturday 01 February 2003 3:27 AM

Gents.
Anyone up there to help me with the Coffee Soluble product specification?
Best regards
Richard Jensen


From: "Robert Pupeter"
To: feedback@instantcoffee.org
Subject: woooh!!!
Date: Sunday 02 February 2003 4:20 PM

Hello instants,

hey, cruising the web i found your site and think that there is pretty cool stuff going on, or at least you make it look like that.

we had a similar thing in munich going on. last year nothinh happened, but this year we continue.

check out www.gruppenzwang.org

gruppenzwang is the german word for peer pressure

have fun robert

TOP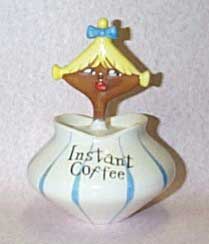 http://www.frogpondantiques.com/hhowardpg1g.html
Instant Coffee Saturday Edition is our (sort of) monthly email/online zine. Saturday Edition compliments to Instant Coffee's email list service, which has been promoting local, national and international events to a targeted audience since 2000.

Instant Coffee Saturday Edition takes submissions. We're interested in graphics, articles reviews and links about music, video/film, art exhibitions, architecture and design for the sections as above ... and self indulgences for the Sanka section. Send submissions to saturday@instantcoffee.org

Trust us, Instant Coffee is about more than distraction

just read &delete

Saturday Edition content submissions can be emailed to saturday@instantcoffee.org. Email IC to ADD or REMOVE yourself to IC EVENTS LIST: local toronto/ontario and inter/national posts. IC HALIFAX LIST: local halifax/maritime and inter/national posts. IC VANCOUVER: local vancouver and inter/national posts. IC NATIONAL LIST: inter/national posts only. Art related only. Post for FREE, but no Guarantees.